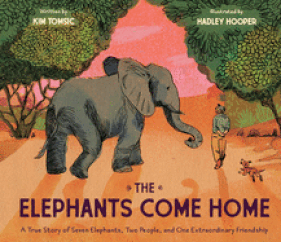 ​If you are struggling to describe your manuscript from a marketing perspective, check out this example.
Bookshop's description (shown below) of The Elephants Come Home: A True Story of Seven Elephants, Two People, and One Extraordinary Friendship (by Kim Tomsic, Hadley Hooper, and Chronicle Books) highlights all the elements that will help sell this book.
These kinds of selling points, or hooks, are important for creators to identify and articulate in queries, cover letters, and discussions about our manuscripts.
Hooks are what a creator or agent will use to snag the right editor, what that editor will use to pitch to the acquisition team, what the acquisition team will pitch or provide to the sales/marketing team, and finally what booksellers will use to sell the book.
Of course, there will be revisions to the hooks along the way but if we can identify them early in the process, we will clearly position the manuscript and help the gatekeepers see where and why it will sell.
Extra credit: see if you can create at least FIVE hooks for your WIP. The example book is nonfiction but the same thinking applies to fiction. From Bookshop's webpage for The Elephants Come Home with [my additions]:
Description: The amazing true story of a herd of elephants, the man who saved them, and the miracle of love that brought them home.
One day in 1999, Lawrence Anthony and Françoise Malby hear that a herd of wild African elephants needs a new home. They welcome the elephants to their wildlife sanctuary–Thula Thula–with open arms. But the elephants are much less sure they want to stay. How will Lawrence prove to them that they are safe and loved? What follows is a gorgeously illustrated real-life story of a friendship . . . and the story of the miraculous way that love given freely will return–greater and more wonderful than it began.
[HOOK ONE!] TOUCHING ANIMAL FRIENDSHIPS: Owen and Mzee, Tarra and Bella, Rescue and Jessica . . . touching true stories of the emotional bonds possible between species are charming, and speak to the limitlessness of love.
[HOOK TWO!] ELEPHANT APPEAL: Elephants are one of the most fascinating and charming wild animals in all of nature. This heartwarming true story will intrigue and inspire children, and turn even the most reluctant readers into elephant enthusiasts.
[HOOK THREE!] CONSERVATION THEME: This book tells the true story of caring for one of the world's most beloved endangered animals: the African elephant. This book is a great, upbeat jumping-off point for discussions of the importance of preserving endangered species and their environments.
[HOOK FOUR!] ENGAGING NONFICTION: There's no better way to get readers hooked on factual books than to offer them real-life stories with heart and meaning.
[HOOK FIVE!] STRONG CURRICULUM CONNECTIONS: The Next Generation Science Standards (NGSS) emphasize learning about animal habitats/biomes in K-2 curriculums, while later grades address topics like conservation and endangered species. With a depth of research and an engaging, highly visual narrative, this book is an excellent resource for librarians and primary school educators.
Perfect for:
– Kindergarten and elementary school teachers
– Parents and grandparents
– Librarians
– Lovers of animals, wildlife, and the natural world
– Zoo and natural history museumgoers
[THESE AREN'T HOOKS BUT ARE AUDIENCES FOR THIS BOOK. CAN YOU NAME THE AUDIENCES FOR YOUR MANUSCRIPT? ESPECIALLY THOSE NICHE AUDIENCES LIKE THE LAST TWO ON THE LIST ABOVE]
Hope this helps demystify hooks and gets you fired up to find yours!