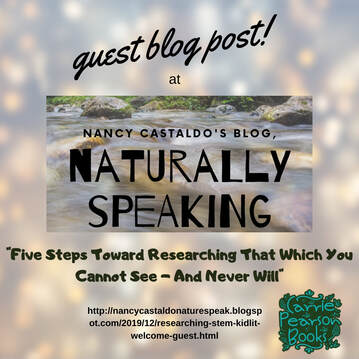 So happy to be invited to be part of Nancy Castaldo's blog series on researching STEM kidlit. Nancy is an award-winning author, photographer, and environmental educator and it is an honor to know her. From her website:
Nancy Castaldo has written books about our planet for over 20 years.
Her 2016 title THE STORY OF SEEDS: From Mendel's Garden to Your Plate, and How There's More of Less To Eat Around The World (now in paperback, too) introduces older readers to the importance of seeds, farming, and the crisis we currently face. It received the Green Earth Book Award and many other accolades.
Her latest is BACK FROM THE BRINK: Saving Animals from Extinction. Other books include SCBWI Crystal Kite recipients BEASTLY BRAINS: Exploring How Animals Think, Talk, and Feel and SNIFFER DOGS: How Dogs (and Their Noses) Save the World.
Her research has taken her all over the world from the Galapagos to Russia and she loves sharing her adventures with her readers. She has conducted programs at the Boston Children's Museum, Atlanta Zoo, Tennessee Aquarium, among others and has spoken at the Science Teachers Association of New York State, NCTE, Texas Library Association, and New England Society of Children's Book Writers & Illustrators.
HONORS:Many of Nancy's books have received recognition, including an American Bookseller Pick of the Lists, a Smithsonian Notable Book For Children, a NSTA Outstanding Science Trade title, Crystal Kite Awards, Green Earth Book Award, and Junior Library Guild Selections.
​In addition to these accolades, she was honored to be the recipient of the 2007 New York State Outdoor Education Association's Art and Literature Award for the body of her work. As a long-time environmental educator, she treasures this honor and hopes to empower more children with her books about the Earth.
I hope you'll consider Nancy's books as gifts for yourself and for young people who are learning about the fragile and wonderful world we call home.