"Here lies one doubly blessed. She was happy and she knew it."  — ​Gwen Frostic's epitaph written by herself
---

The Surprise
On March 9th, 2019, during the Michigan Reading Association's (MRA) annual literacy conference, I was honored with their 2019 Gwen Frostic Award.
​
I hadn't a speck of an inkling this was in the works. So imagine my confusion when I was packing up my belongings after a presentation and was commanded to the late afternoon general assembly by a dear friend, author, and MRA board member, Deb Gonzalez. I think her exact text read, "Get here. Now." She immediately ushered me to a seat in the front row of a 1700-person packed room. Call me perplexed but I didn't have to wonder long because about a second later, the Award was described and I was announced as this year's recipient.
The Honor
​From the MRA website: Gwen Frostic Award
"In 2006 the Michigan Reading Association established a Board Award that would honor a Michigan author and/or illustrator. The candidate must have strongly influenced literacy in Michigan in any dimension of literacy: which may include but is not limited to: children's fiction/nonfiction, young adult fiction/nonfiction, adult fiction/nonfiction, drama, song, poetry, newspaper, magazine or multimedia."
Sara Gwendolen Frostic was a beloved artist, author, and lecturer sharing "her observations of the universe." She was owner and president of Presscraft Papers, Gwen Frostic Prints, of Benzonia.  Gwen was awarded honorary degrees from many colleges and universities, was inducted into the Michigan's Women's Hall of Fame, and was even given her own day, May 23rd, known as Gwen Frostic Day in Michigan.
Her nature-inspired art themes resonate deeply with me as does her willingness to pursue her passion for creativity. Her art is breathtaking in its simplicity, the way it engages the eye, and in its respect for subject. Through Gwen's art, we learn about the subject in its environment and like her printmaking technique, that subject is indelibly imprinted in our hearts.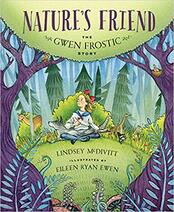 The Challenge
​"The candidate must have strongly influenced literacy in Michigan in any dimension of literacy…" Although the Award language is past-tense, this moment has stoked my commitment to positively influence literacy in the days, weeks, and months ahead. I also challenge you — writer, illustrator, storyteller, teacher, librarian, parent, and/or guardian of our most special people on Earth — to positively influence literacy in any dimension that YOU can. 
Thank you to the Michigan Reading Association Board for this surprise, this honor, and this challenge.
To Gwen! To children! To books!