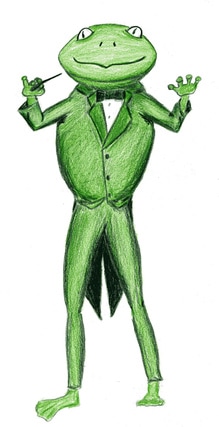 creative commons
We all want to be the conductor of our manuscripts. We want them to reflect our creativity, our voice, our idea.
However, picture books are not solo pieces. Text plays with illustrations. Illustrations play with text. So, what happens when, as writers, we feel we need to offer something that is not text but sets the stage, provides an orientation, and/or shares our vision?
We learn writers have an option to do this through short notes included in the manuscript. Called 'art notes' or 'illustrator notes,' they are meant for initial readers (critiquers, agents and/or editors) but won't stay in the manuscript after it is illustrated.
HOWEVER, after we've begun to receive critiques and listen to agents and editors speak about what they want to see in manuscripts, we quickly realize these readers' opinions about art notes can be as unique as they are. Some, like vice president and publisher Allyn Johnston of Beach Lane Books (imprint of Simon & Schuster), clearly feel it is "not the writers' job to control what happens with illustrations." Read author Barb Rosenstock's interview with Ms. Johnston at Picture Book Builders blog. Bottom line: art notes could be a kiss of death for a manuscript submitted to Ms. Johnston. The text must stand alone.
Similarly, ​Sarah Rockett, editor at Sleeping Bear Press says in this interview with Only Picture Books blog, "In general, I strongly advise against them. A submitting author's goal is to have the acquiring editor feel personally and passionately about their story. It's hard to feel an attachment to a story if every other line the author is telling you what you're seeing. The beauty of publishing a picture book is that everyone involved brings something to the project (author, editor, illustrator, and designer) that makes it stronger. Let editors have that moment to really be engaged in the story."
However, Brett Duquette, senior editor at Little Bee Books, has a slightly different viewpoint. (Sterling publishes about 40 books a year and most are picture books.) Mr. Duquette encourages writers to submit manuscripts showing page turns and art notes where they are deemed crucial. He wants writers to show their vision of the story, but also trust the editor to "get it." Bottom line: judicious imperative-only art notes are acceptable and page turn indications are encouraged.
And, although she admits she might be unique in this viewpoint, Carol Hinz, editorial director of Lerner imprints Millbrook Press and Carolrhoda Books, likes pagination in her manuscripts. Read her recent blog post to learn why.
Going one step deeper with art notes, what do we do when our text:
* doesn't reflect the full story we've envisioned?
* is in cognitive dissonance with illustrations?
* is limited or non-existent?
Remember that submitting a cover note including a well-crafted logline/blurb can provide enough information to replace art notes. While we don't have access to authors' cover notes, we can research blurbs as mentor texts…
If your text doesn't reflect the full story? Try this blurb for SNAPPSY DID NOT INTEND TO BE IN THIS BOOK (Falakato/Miller published by Viking Children's). This is a book-length sparring match between exasperated alligator Snappsy and an offstage storyteller-foil who criticizes Snappsy and ignores his pleas to scram.
Text is in cognitive dissonance with illustrations? Try this blurb for QUIT CALLING ME A MONSTER! (Jory/Shea Random House BFYR) A pear-shaped, purple-fur-covered creature speaks directly to listeners. "I'm no monster!" This not-a-monster's appearance and behavior belie his message.
Limited or non-existent text? How about this blurb for FISH (Liam Francis published by Roaring Brook/Porter) In this nearly wordless book, a boy and his dog go fishing and pull in not a fish but a large letter F. I soon follows, then S. The boy, after reeling in a disappointing letter Q, is then pulled underwater for a mini-adventure.
Michigan author Shutta Crum says this about art notes for her adorable nearly wordless book, MINE (illustrated by Patrice Barton published by Alfred A. Knopf) in the SCBWI Bulletin: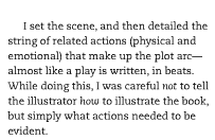 — Shutta Crum, SCBWI Bulletin March April 2013
​If you are an SCBWI member, you can log in and read the full article
here
.
​
After reading this post and others on the topic, IF art notes are still imperative for understanding an aspect of the text and IF your intended reader is amenable, this seems to be an accepted format: [brief art note]. Art Notes 101 includes: don't make a note for specific characteristics (colors for clothing, hair, etc.), don't demand (use terms like "consider" "possible" or use a question mark after a suggestion), learn a few illustrative terms like "vignettes" or "spot art" to describe your idea if necessary.
In the end, let's recognize that readers are people with subjective tastes and opinions. This applies to art notes, too. Learning those tastes and opinions helps us submit material that honors the reader. Keep going to conferences, listening to webinars, reading interviews, etc., and know what the agent or editor prefers before submitting.
Understanding our readers — and letting go of our grip on the baton — can make the difference between a pass or an accepted submission.
---
​
How do you use art notes? Or not? Opinions? Experience? Share it out!