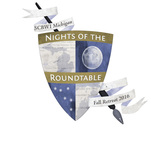 created by Michigan SCBWI member, Lindsay K. Moore
I'm drawing-challenged, but if I weren't I'd be registering for this Retreat before the chartreuse could dry on my cotton duck canvas.
The (Days and) Nights of the Roundtable Fall Retreat 2016
is hosted by
SCBWI Michigan
. It features three tracks: picture books, novels, and illustration. The illustrator track has been designed by
Ruth McNally Barshaw
, author/illustrator of the famous Ellie McDoodle series and Illustrator Coordinator for SCBWI MI (lucky us.) Even a novice like me can appreciate the leaps these attendees will make with an agenda like this! (see below) and with faculty like these! (see below)
Below:
Friday:
4:00 – 5:00 PM Check in/Register/Illustrators will be handed an assignment at check-in (Draw a character) Illustrators should have the Quick Illustrator Homework (Mood thumbnails) already done, or do it now.
5:30 – 6:30 PM Welcome and Dinner all 3 tracks
6:45 – 7:35 PM
Vanessa Newton
—
Introduction to Picture Books
: What makes good illustration in a picture book? It's all about the page turn. Surprises from working with art directors and editors.
7:45 – 8:30 PM Demo –
Cathy Gendron
—
Traditional Glazing Technique Demo
Cathy will take students from quick sketch and under-painting, through multiple layers of thinly applied oil paint to a completed illustration. In the process she will discuss color temperature and contrast, form and volumetric shape control, painting tools and surfaces, and an overview of different painting mediums and their individual characteristics.
8:45 – 10:00 PM Portfolio Mingle/Social Activity/Optional S'mores Party
Saturday:
7:15 – 8:00 AM Breakfast all 3 tracks
8:30 – 9:25 Vanessa –
Character Workshop. What Makes a Good One?
Shapes. Decisions. Likability. Using reference images. Includes drawing time: refine last night's character.
9:30 – 10:25
Kirbi Fagan
– (composition homework is reviewed in this session)
Composition Lecture:
Create clear, more polished images that read fast for a commercial market using color, value, perspective and more. Learn about my THREE elements that I believe are the formula for an eye catching, art director loving image. Use every element in your image to create movement and flow no matter what style you work in. Gutter talk, where you can crop where you just can't & type, what AD's want you to consider when creating portfolio pieces.
10:30 – 11:25 AM Cathy –
Style vs. Voice:
How do you think about finding your place in a crowded illustration field? 11:30 – 12:00 PM Assignment given: Find a character at lunch. Use this ½ hour to revise your character you developed yesterday, using what you have learned so far. Next, take your sketchbook to lunch and find and sketch another character there.
12:00 – 1:00 PM Lunch all three tracks
1:00 – 1:50 PM Vanessa –
Character Workshop Part 2: Action
How does your character move? how is that related to how the character looks? How to add movement in a static character. Includes drawing time: refine the two characters you developed this weekend: Add action poses.
2:00 – 2:50PM Kirbi —
Composition Workshop:
Draw thumbnails again after we talk about them using what was learned in the lecture. Tools needed: grey, black and white + paper any media (ex. markers, pencils, colored pencils). These "templates" can be used toward future illustrations, for example a triangle might be a person and circle might be a fish etc.
2:50 – 3:20 PM 30 minute break – bookstore and/or regroup, breathe, grab a snack.
3:20 – 4:10 PM Cathy –
You're not a dabbler or a hobbyist: How to treat your talent with respect and professionalism.
How do you represent yourself to the world? What is the best way to work with an art director? How do you attract attention from the publishing world? How do you resolve disagreements and conflicts without burning bridges? How do you protect yourself from copyright infringement and what do you need to know to protect the rights of your fellow artists and photographers.
4:20 – 5:10 PM Vanessa —
Character Workshop Part 3: Design
Design the world your character lives in – clothes, furnishings, atmosphere. How do these decisions affect the character's design? Includes drawing time: refine the characters you've been working with. Add design to their worlds. Can they both inhabit the same story?
5:20 – 6:10 PM Kirbi –
Color Lecture:
Creating cohesive harmonious color schemes, limited color schemes and how to steal other people's color schemes. Learn how using reflective color can add life to your work. Make smart choices when choosing colors in your main character. Learn why green is the devil. Dividing your composition up by color temperature to increase readability. Problem solving with color with these questions, in this order: is it the right value? Temperature? Saturation? Hue?
6:15 – 7:00 PM Dinner all three tracks
7:20 – 8:20 PM Demo – Kirbi reviews the art piece you sent in with retreat registration. Kirbi paints over the images digitally to show how the techniques in her lectures can be applied.
Sunday:
7:15 – 8:00 AM Breakfast for all
8:30 – 9:25 AM Vanessa –
Putting It All Together:
Design, characters, the world in your book. Illustrating someone else's words.
9:30 – 10:25 AM Cathy –
Mechanics:
What does a thumbnail, rough sketch, presentation sketch and color sketch look like and which one do you create at each stage of a project? How do you streamline the parts of your art making process to save time (and money)?
10:30 – 11:25 AM Vanessa, Kirbi, Cathy: Group critiques
11:30 – 12: 00 PM Vanessa: Motivational send-off
12:00 – 1:00 PM Lunch all three tracks, goodbyes, announce winner of mentorship
Checkout at 1:00 PM
​
Don't tarry.
Register
today — before I change my mind, pick up a paint brush, and join you.