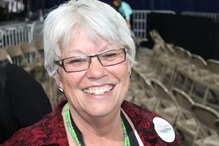 Don't miss this ​90 ​minute ​live ​webinar ​with ​noted ​author, ​former ​teacher, ​and ​school ​visit ​expert, ​
Suzanne ​Morgan ​Williams
. ​Fees are: ​$25 ​for ​current ​SCBWI ​members, ​$30 ​for ​not-yet-members, ​and ​free ​to ​Michigan ​P.A.L. ​members. ​It will be great ​for ​illustrators, ​pre-published, ​and ​seasoned ​presenters.
The ​best ​school ​visits ​are ​age ​appropriate, ​energetic, ​engaging, ​and ​add ​value ​to ​the ​curriculum. ​How ​do ​you ​design ​amazing ​presentations? ​Gain ​confidence ​in ​your ​performance, ​teaching, ​and ​negotiations? ​How ​do ​you ​get ​schools ​(or ​more ​schools) ​to ​hire ​you? ​Handouts, ​exercises, ​and ​the ​online ​presentation ​will ​help ​you ​plan ​programs ​based ​on ​your ​strengths, ​your ​books, ​and ​students' ​needs. ​
Suzanne Morgan ​Williams ​will ​share ​her ​best ​tips ​for ​connecting ​with ​schools ​and ​negotiating ​fair ​deals. ​If ​you're ​serious ​about ​giving ​presentations ​that ​leave ​schools ​buzzing, ​tune ​in. ​The ​webinar ​will ​end ​with ​an ​optional ​online ​question ​and ​answer ​time. ​ ​Homework ​and ​supplemental ​information ​will ​be ​forwarded ​to ​registered ​participants ​prior ​to ​the ​live ​event. ​Your ​link ​to ​the ​webinar ​will ​be ​active ​for ​three ​months ​after ​the ​event. ​Click below to register! Seats are limited and filling quickly…