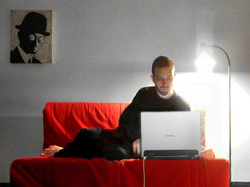 If you haven't tried webinars yet, you are missing the high-powered speedboat. To view a webinar, you need an internet connection, audio through your computer speakers, and time. That's it!
My first webinar was in 2011, chosen through Writer's Digest because they were professional and had great course offerings. I loved the medium so I participated in webinars on topics as diverse as querying, common core, middle grade novel openings, and character development. I learned a ton cost-effectively and without leaving my office. Then, in my role as co-Regional Advisor for SCBWI-MI, I worked with co-RA Leslie Helakoski and with Aaron Brown from Delve Writing on creating a 5 part series of webinars (From Manuscript to Submission) for others to view. That's when I realized how effective they are for diverse audiences.
The trump card for webinars from my perspective is that I found my agent, Jodell Sadler, through one. She offered a picture book pacing session through Writer's Digest, and after I submitted a picture book for critique as part of the webinar, she requested more information about my writing and eventually, I signed with her. <insert happy dance>.
Bottom line (ha!): webinars rock. Go forth. Sign up for a webinar nearest (or far-est) from you. You'll be glad you did.